Artists
2018 Season Artist Vendors
Baskets 2 Use
Jean Haas, owner
Hand-made functional baskets, many designs.
Be-leaf Bodycare
Brian Boyak, owner
Natural body and facial products feature organic argan oil, organic Shea butter, botanical extracts and therapeutic grade essential oils.
Black River Blades, Daniel Choszczyk, owner  Handmade forged knives for kitchen, hunting, fishing, and survival, all made from re-claimed materials.
Blue Lake Sunrise Pottery
Jenny Frein, owner
Fiber wearable art and ceramic artwork that is functional and sculptural.
Gourd Art by Elaine
Elaine Hommowun, owner
Bird houses, bowls and various holiday items made exclusively from gourds.
Herbal Oasis Bodycare
Deanna Attee, owner
Natural & organically-based herbal body products with an aromatherapy focus – for women, men, children & pets.
JB Crafts
Jim Boxer, owner                Cedar log birdhouses and bird feeders, bat houses and planters, fly tying table, hand tied flies, and pine shut-box games.
Jean Sinervo, owner       Artist designed hand made jewelry of copper, silver, gemstones, enamel local themes and U.P stones. Also, handmade copper bells and souvenir U.P maps.
Marquette Expressions
Maggi Haupt, owner          hand made greeting cards and other paper products.
Native Sister Soap
Colleen Carlyle, owner
Natural artisan soap & body butters, matching non GMO soy candles scented with pesticide free pure essential oils.
Pea Pickle Farm
Leslie Allen, owner
beeswax and bayberry wax candles and figurines
Red Metal Jewelry
JR Scott, owner                    Handmade not assembled jewelry with stones, copper, and silver.
Sage & Spry
Angela Cherrette, owner
Chair massages, homemade natural bath and body products.
Wollymama clothing line Shady Grove Farm U.P Randy and Libby Buchler, owners
Shanti Jewelers
Carol Danner, owner          Natural Petoskey stone and Larimar stone set in all silver for earrings, rings, necklaces, and beaded jewelry.
Treasa's Treasures
Treasa Sowa, owner
Small farm dedicated to growing quality, healthy season produce and plant starts, jam, maple syrup. Hand woven rugs.
Trillium Turnings
David Payant, owner          Turned wooded bowls, platters and goblets.
Wild Pages
Amber Edmondson, owner
Hand-bound, blank journal books and paper arts inspired by the north woods.
Winter Sky Wool Company
Karen Valley, owner
Prize winning Shetland fiber and sheep since 1992. Many natural colors and dyed products.
                                                                           
ARK Wood Products
Ron Klumb, owner
Strawberry planter, games, bird houses/feeders, adjustable trivets and other household useful wood products.
Aquarius Art Ventures
Tamara Niemi, owner
Art posters, postcards, notecards
Bandolier International
Jeffrey Pruitt, owner
original paintings – acrylic on canvas.
Branching Out
Joan Roberts, owner
Twig garden art.
 
Brett's Driftwood Creations
David & Cheryl Coughlin, owners
Handcrafted driftwood art.
David Grimes, Susan Grimes
Woodwork items such as lamps, trees, cup trees, and other small items.
Designs by Vonamae
Vona Mae Scott, owner
Glass fused jewelry.
 
Designer Jacque
Jacqueline Edwards, owner
Artist designed apparel, current collection inspired by the ocean.
Good For You
Kay Presensky, owner
Driftwood art
Jade Enterprises
Deborah Frontiera, owner
Author, multi genre, fiction and non-fiction.
Judy B Knitting
Judy Berglund, owner
Hand knit felt wool arrangements and decorations.
 
Kenn Grimes
Kenn Grimes, Author, screenwriter and copy editor with four published books to his credit including the Booker Falls Mystery Series, cozy mysteries set in the 19200's in the Keweenaw Peninsula.
Adult fiction books.
Ronnie's Art
Ron Morgan, owner
Paintings, prints, and note cards.
Soaring Suds
Leslie Edmunds, owner
Cold process soap, bath bombs, bubble bars and more.
The Phoenician Soap Co.
Jacalyn Salloum, owner
Artisan, small batch soaps and lotions.
 
Thai Massage & Bodywork
Christopher Ray, owner
Thai massage.
Touchstone
Susan Olson-Morse, owner
Michigan stone jewelry, floral bead jewelry, semi-precious stone jewelry.
UP Roc Doc
Connie Hedmark, owner
Jewelry, cut, polished stones in silver smithed settings.
 Yooper Sisters
Amanda Sheppard, co-owner.
 
featured recipe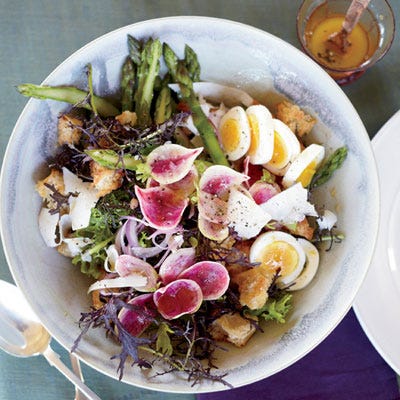 Spring is here and the Downtown Marquette Farmers Market opens on Saturday May 26. There will be lots to see, familiar vendors and new ones too. With a couple of pantry ingredients on hand, and what you can find at the market, this recipe will be easy to make and has satisfying crunch of fresh local greens, richness of local eggs. Add some cooked meat if you like and enjoy all that the market has to offer.
Ingredients
1/4 c.
extra-virgin olive oil
2 tbsp.
extra-virgin olive oil
2 c.
packed young mustard greens or chicory
1 
watermelon radish or 2 large red radishes
Directions
Preheat the oven to 350 degrees F. Put the eggs in a saucepan of water and bring to a simmer over moderately high heat. Simmer for 6 minutes. Drain the saucepan and fill it with cold water. Crack the eggs all over and let stand in the water for 1 minute. Peel and thickly slice the eggs; the yolks will be barely cooked but not runny.
Spread the bread pieces on a baking sheet and brush lightly with olive oil. Bake for about 12 minutes, until crisp.
Meanwhile, in a large pot of boiling salted water, cook the asparagus until just tender, about 3 minutes. Drain, cool and cut the asparagus in half lengthwise.
In a small bowl, combine the 1/4 cup plus 2 tablespoons of oil with the vinegar; season with salt and pepper. In a large bowl, toss the asparagus, toasted bread, greens, onion, and cheese. Drizzle with the dressing and toss. Garnish with the eggs and radish and serve.
© PAUL COSTELLO