Online Resources
Taste the Local Difference
Our Mission: "TLD helps food businesses and the communities they serve benefit from the economic value of local food, while ensuring that fresh, healthy, local food is available to all consumers." more information here: http://www.localdifference.org/
Michigan Farmers Market Association
The Michigan Farmers Market Association works with and for farmers market organizers, managers, farmers, vendors and friends to create a thriving marketplace for local food and farm products. More information here.
Michigan Department of Agriculture & Rural Development
Interested in selling at a farmers market or starting a farm? Check out regulations and resources here.
MSU Product Center
The MSU Product Center for Agriculture and Natural Resources (ANR) was established in Spring, 2003 with funds from the Michigan Agricultural Experiment Station and Michigan State University Extension to improve economic opportunities in the Michigan agriculture, food and natural resource sectors. The Product Center can help you develop and commercialize high value, consumer-responsive products and businesses in the agriculture and natural resource sectors. More information here.
Michigan Agritourism
Our Mission: Michigan Agritourism is a non-profit association that supports the agritourism industry through promotion, education, advocacy, problem resolution and networking. Our goal is to keep family farms sustainable, support local economic growth, and provide rich and unique experiences for visitors to make lasting memories. http://www.michiganfarmfun.com/default.asp
Farmers Market Coalition
The mission of FMC is "to strengthen farmers markets for the benefit of farmers, consumers, and communities." The Farmers Market Coalition is driven by three complimentary goals. We call it our triple bottom line. Farmers earn fair prices for the fruits of their labor by selling directly to consumers. Consumers gain access to fresh, nutritious, local produce. Communities regain a figurative "town square," experiencing the many positive outcomes of foot traffic and animated public space. Throughout the USA, farmers markets are achieving these goals. Some are doing it better than others. While we too are dazzled by the bigger markets which assemble hundreds of vendors and thousands of shoppers, size is not our only measure of success. Sometimes, it is the smaller farmers market operating in a challenging neighborhood that achieves this triple bottom line. farmersmarketcoalition.org/joinus/
Local Harvest
America's #1 organic and local food website with a national directory of farms and markets. More information here.
Culinate
All about eating well, with lots of good ideas about using local food. Their content — articles, cooking tips, interviews, recipes, podcasts, food news, blog posts — helps people put real food at the center of their lives. More information here.
The American Farmland Trust
Working to stop the loss of productive farmland and promote healthier farming practices in the U.S. More information here.
featured recipe
Winter Squash Tasting October 20 at the
Downtown Marquette Farmers Market.
Come try the many varieties and figure out your favorite, then stock up for winter.
How to select winter squash: Choose squash that is heavy for its size. Avoid squash with cracks or soft spots
How to store: Store in a cool, dark place. Once cut, store in the refrigerator.
For additional information on storage length:
http://www.johnnyseeds.com/growers-library/vegetables/winter-squash-eating-guide.html
Easy slow-Cooker Squash:
1 winter squash
1 cup water
Cut the squash in half lengthwise. Use a large spoon to clean out the seeds. (Set seeds aside to roast later. https://www.thespruceeats.com/roasted-squash-seeds-2355361 ) Add water and the cleaned squash helves to the slow cooker. Set the slow cooker to low for 6 hours or until squash is easily pierced with a fork. Scoop cooked flesh from the skin and mash lightly. store in the refrigerator, or place in a freezer bag, label and freeze for future use.
Tip: Use this cooked squash as a substitute for any recipe that calls for canned pumpkin puree.
Curried Squash Hummus serves 14
1 small squash, cooked and mashed (about 2 cups)
1 can (15 ounces) chickpeas, drained and rinsed
1 teaspoon salt
1 teaspoon curry powder
2 Tablespoons tahini *optional
2 Tablespoons olive oil
Place all ingredients in a food processor. Blend until smooth. Serve with  sliced fresh vegetables, crackers or lightly toasted pita bread wedges.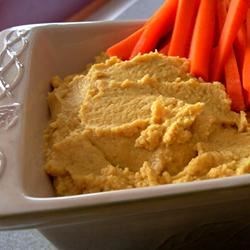 photo from Allrecipes
Nutrition Information:
97 calories
3 grams protein
14 grams carbohydrate
4 grams fat
222 milligrams sodium
3 grams fiber
recipes and information from:
FRESH* Seasonal * TASTY
Farmers Market Cookbook
recipes by: Linnea Redinger