Online Resources
Taste the Local Difference
Our Mission: "TLD helps food businesses and the communities they serve benefit from the economic value of local food, while ensuring that fresh, healthy, local food is available to all consumers." more information here: http://www.localdifference.org/
Michigan Farmers Market Association
The Michigan Farmers Market Association works with and for farmers market organizers, managers, farmers, vendors and friends to create a thriving marketplace for local food and farm products. More information here.
Michigan Department of Agriculture & Rural Development
Interested in selling at a farmers market or starting a farm? Check out regulations and resources here.
MSU Product Center
The MSU Product Center for Agriculture and Natural Resources (ANR) was established in Spring, 2003 with funds from the Michigan Agricultural Experiment Station and Michigan State University Extension to improve economic opportunities in the Michigan agriculture, food and natural resource sectors. The Product Center can help you develop and commercialize high value, consumer-responsive products and businesses in the agriculture and natural resource sectors. More information here.
Michigan Agritourism
Our Mission: Michigan Agritourism is a non-profit association that supports the agritourism industry through promotion, education, advocacy, problem resolution and networking. Our goal is to keep family farms sustainable, support local economic growth, and provide rich and unique experiences for visitors to make lasting memories. http://www.michiganfarmfun.com/default.asp
Farmers Market Coalition
The mission of FMC is "to strengthen farmers markets for the benefit of farmers, consumers, and communities." The Farmers Market Coalition is driven by three complimentary goals. We call it our triple bottom line. Farmers earn fair prices for the fruits of their labor by selling directly to consumers. Consumers gain access to fresh, nutritious, local produce. Communities regain a figurative "town square," experiencing the many positive outcomes of foot traffic and animated public space. Throughout the USA, farmers markets are achieving these goals. Some are doing it better than others. While we too are dazzled by the bigger markets which assemble hundreds of vendors and thousands of shoppers, size is not our only measure of success. Sometimes, it is the smaller farmers market operating in a challenging neighborhood that achieves this triple bottom line. farmersmarketcoalition.org/joinus/
Local Harvest
America's #1 organic and local food website with a national directory of farms and markets. More information here.
Culinate
All about eating well, with lots of good ideas about using local food. Their content — articles, cooking tips, interviews, recipes, podcasts, food news, blog posts — helps people put real food at the center of their lives. More information here.
The American Farmland Trust
Working to stop the loss of productive farmland and promote healthier farming practices in the U.S. More information here.
featured recipe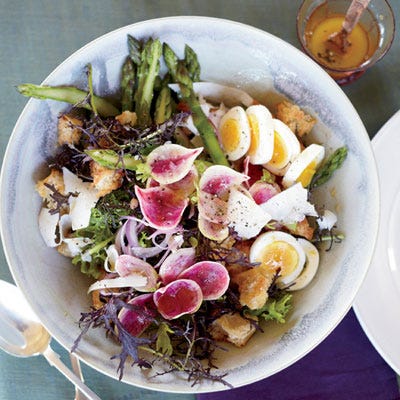 Spring is here and the Downtown Marquette Farmers Market opens on Saturday May 26. There will be lots to see, familiar vendors and new ones too. With a couple of pantry ingredients on hand, and what you can find at the market, this recipe will be easy to make and has satisfying crunch of fresh local greens, richness of local eggs. Add some cooked meat if you like and enjoy all that the market has to offer.
Ingredients
1/4 c.
extra-virgin olive oil
2 tbsp.
extra-virgin olive oil
2 c.
packed young mustard greens or chicory
1 
watermelon radish or 2 large red radishes
Directions
Preheat the oven to 350 degrees F. Put the eggs in a saucepan of water and bring to a simmer over moderately high heat. Simmer for 6 minutes. Drain the saucepan and fill it with cold water. Crack the eggs all over and let stand in the water for 1 minute. Peel and thickly slice the eggs; the yolks will be barely cooked but not runny.
Spread the bread pieces on a baking sheet and brush lightly with olive oil. Bake for about 12 minutes, until crisp.
Meanwhile, in a large pot of boiling salted water, cook the asparagus until just tender, about 3 minutes. Drain, cool and cut the asparagus in half lengthwise.
In a small bowl, combine the 1/4 cup plus 2 tablespoons of oil with the vinegar; season with salt and pepper. In a large bowl, toss the asparagus, toasted bread, greens, onion, and cheese. Drizzle with the dressing and toss. Garnish with the eggs and radish and serve.
© PAUL COSTELLO