Shopping at Market- Helpful Hints
1. Bring small bills
Bringing small bills makes your transactions go faster. The market does offer use of a credit card machine, located at the market information kiosk. Credit and debit cards can be swiped to get market money that is accepted by all vendors.
2. Bring your own bags
You can bring your own shopping bag, maybe more than one. You may end up going home with more food than they anticipated.
3. Consider leaving Fido home
Dogs are not permitted in the plaza area of the market due to health department regulations. We do understand there are those who look forward to visiting the market when they walk their four legged family member on Saturday mornings. The Downtown Development Authority has created a doggie tie-up area on the west end of the market, beyond the bike racks. We ask that you only utilize this area if your dog is friendly and will be OK left on its own while you shop.  Service animals are allowed.
4. Think Seasonally
We live in Michigan's Upper Peninsula. Our growing season is short.  We do have produce to purchase all market season long though.  Look at the market as a chance to get to know the seasonality of U.P. produce and taste new, delicious, and healthy foods. If you see something you don't recognize ask the farmer. They enjoy talking about their products and can make suggestion on how to use/cook their produce. You can also stop at the market kiosk. We can help identify products and find recipes. In fact, there are new recipes available every week so feel free to stop by any time to see what's new.
5. Plan ahead… but also be spontaneous
If you visit the market each week, you'll have some idea of what to expect the next week. So do a little loose meal planning. It will help minimize wasting produce that you bought on a whim. That said, if green beans come in a little early and surprise you at market, grab them while you can!
6. Dress comfortably
It's an outdoor market and we are open every Sat. May 20- December 16, 2017. We are open regardless of the weather. All of the vendors work very hard all season preparing for each week to have product for the market, so dress as needed and come shop, have fun and eat delicious food.
7. Be mindful
There are a lot of fun things to look at or watch at the farmers market. There are also curbs, strollers, cords for electricity, tent poles… Enjoy the scenery and energy of the market but be mindful as well. We want to avoid all accidents. Should there be an accident, go to the market kiosk  for help or for complaints/suggestions.
8. Try walking or biking to the market
Lots of people travel from quite a distance to attend the market and have to park. Even with all the parking around us, enough people attend market that parking gets tight. If possible, consider walking or bicycling to the market. Get your exercise, healthy food, and fun all at once!
9. Come early for popular items
If you wait all year for upper peninsula grown strawberries you better get up early when they come into season. Popular items with a short season sell out fast. There also might not be as much available at the beginning and end of an items particular growing season. Coming early ensures you get the products you want…instead of just what's left.
10. Make it a family affair
The market is a wonderful family event. Bringing your children to market encourages healthy eating and teaches them about the seasonality of food. Letting a child pick one food that the family will eat that week helps include them in family decision making. Classes, food demonstrations, music, and recipes also add to the market experience. Watch the website and Facebook for details about upcoming events at the market.
featured recipe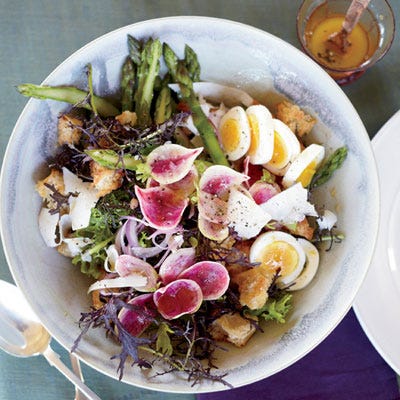 Spring is here and the Downtown Marquette Farmers Market opens on Saturday May 26. There will be lots to see, familiar vendors and new ones too. With a couple of pantry ingredients on hand, and what you can find at the market, this recipe will be easy to make and has satisfying crunch of fresh local greens, richness of local eggs. Add some cooked meat if you like and enjoy all that the market has to offer.
Ingredients
1/4 c.
extra-virgin olive oil
2 tbsp.
extra-virgin olive oil
2 c.
packed young mustard greens or chicory
1 
watermelon radish or 2 large red radishes
Directions
Preheat the oven to 350 degrees F. Put the eggs in a saucepan of water and bring to a simmer over moderately high heat. Simmer for 6 minutes. Drain the saucepan and fill it with cold water. Crack the eggs all over and let stand in the water for 1 minute. Peel and thickly slice the eggs; the yolks will be barely cooked but not runny.
Spread the bread pieces on a baking sheet and brush lightly with olive oil. Bake for about 12 minutes, until crisp.
Meanwhile, in a large pot of boiling salted water, cook the asparagus until just tender, about 3 minutes. Drain, cool and cut the asparagus in half lengthwise.
In a small bowl, combine the 1/4 cup plus 2 tablespoons of oil with the vinegar; season with salt and pepper. In a large bowl, toss the asparagus, toasted bread, greens, onion, and cheese. Drizzle with the dressing and toss. Garnish with the eggs and radish and serve.
© PAUL COSTELLO