Market Info
Types of Payments accepted/distributed at the Downtown Marquette Farmers Market
ACCEPTED:
Cash
Credit/Debit cards converted to Market Money
We can run your credit/debit cards at the market information tent and give you market money, a special currency that can be spent with any vendor at the Downtown Marquette Farmers Market. Vendors give U.S. Currency in change
Supplemental Nutrition Assistance Program/SNAP/EBT
Supplemental Nutrition Assistance Program, or SNAP, is the name for food stamps. In Michigan this program is also referred to as the Michigan Bridge Card. Those who meet income eligibility requirements are allotted a set amount of money each month, on their Bridge Card, to help them purchase food.
Project FRESH
WIC Project FRESH is a program that makes fresh produce available to low-income, nutritionally-at-risk consumers, through Michigan farmers' markets. Women and children up to age 5 (excluding infants) currently enrolled in the WIC program can get coupons for fresh fruits and vegetables to use at the farmers market. Women who are either pregnant or breastfeeding are targeted to help meet their special nutritional needs.
For more information click here or you can call your local WIC agency.
Senior Market FRESH
The Senior Farmers' Market Nutrition Program (SFMNP) awards grants to states, United States territories, and federally-recognized Indian tribal governments to provide low-income seniors with coupons that can be exchanged for eligible foods at farmers' markets, roadside stands, and community supported agriculture programs. To learn more, click here If you think you are eligible to participate contact your local senior center for your community's individual program information.
DISTRIBUTED:
Double Up Food Bucks
An exciting program the Downtown Marquette Farmers Market participates in that matches up to $20.00/week for people who use their SNAP/Michigan Bridge Card at the Downtown Marquette Farmers Market. Each time a SNAP/Michigan Bridge Card recipient uses their card at market, we give them double the amount of money they ran the card for up to $20.00. Example, if a Bridge card is swiped for $10, our grant funding enables us to give out an additional $10.00 for a total of $20.00 in food purchasing tokens and only $10.00 came off the customers Bridge Card. The Double Up Food Bucks tokens are used exclusively for fresh, Michigan grown produce sold at the market. This frees up the original Bridge card allocation to be used on other groceries found at the market, such as eggs,  meat and bread. For more information about Double Up Food Bucks, you may visit here.
Hoophouses for Health
Families with children 0-8 years old who are registered with AMCAB Head Start, YMCA young child programs or MARESA Early Childhood programs are eligible to receive $16/month/household member to use at participating farmers booth at the market. Vouchers valid through the end of the calendar year.
featured recipe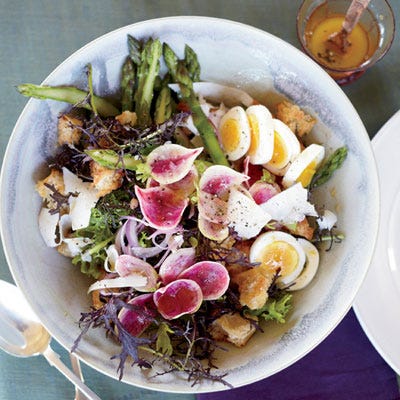 Spring is here and the Downtown Marquette Farmers Market opens on Saturday May 26. There will be lots to see, familiar vendors and new ones too. With a couple of pantry ingredients on hand, and what you can find at the market, this recipe will be easy to make and has satisfying crunch of fresh local greens, richness of local eggs. Add some cooked meat if you like and enjoy all that the market has to offer.
Ingredients
1/4 c.
extra-virgin olive oil
2 tbsp.
extra-virgin olive oil
2 c.
packed young mustard greens or chicory
1 
watermelon radish or 2 large red radishes
Directions
Preheat the oven to 350 degrees F. Put the eggs in a saucepan of water and bring to a simmer over moderately high heat. Simmer for 6 minutes. Drain the saucepan and fill it with cold water. Crack the eggs all over and let stand in the water for 1 minute. Peel and thickly slice the eggs; the yolks will be barely cooked but not runny.
Spread the bread pieces on a baking sheet and brush lightly with olive oil. Bake for about 12 minutes, until crisp.
Meanwhile, in a large pot of boiling salted water, cook the asparagus until just tender, about 3 minutes. Drain, cool and cut the asparagus in half lengthwise.
In a small bowl, combine the 1/4 cup plus 2 tablespoons of oil with the vinegar; season with salt and pepper. In a large bowl, toss the asparagus, toasted bread, greens, onion, and cheese. Drizzle with the dressing and toss. Garnish with the eggs and radish and serve.
© PAUL COSTELLO