Our Mission
To support local farmers, growers, and artisans; to make available wholesome, quality food and goods, and to provide a festive marketplace that benefits the Marquette Community.
The Downtown Marquette Farmers Market is sponsored by the Marquette Downtown Development Authority
featured recipe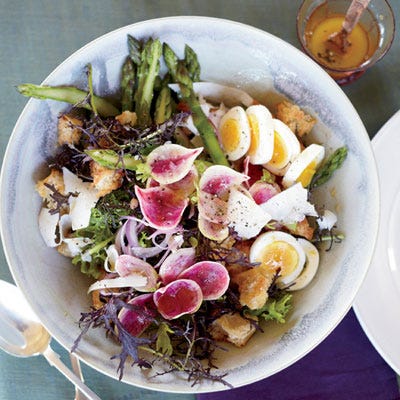 Spring is here and the Downtown Marquette Farmers Market opens on Saturday May 26. There will be lots to see, familiar vendors and new ones too. With a couple of pantry ingredients on hand, and what you can find at the market, this recipe will be easy to make and has satisfying crunch of fresh local greens, richness of local eggs. Add some cooked meat if you like and enjoy all that the market has to offer.
Ingredients
1/4 c.
extra-virgin olive oil
2 tbsp.
extra-virgin olive oil
2 c.
packed young mustard greens or chicory
1 
watermelon radish or 2 large red radishes
Directions
Preheat the oven to 350 degrees F. Put the eggs in a saucepan of water and bring to a simmer over moderately high heat. Simmer for 6 minutes. Drain the saucepan and fill it with cold water. Crack the eggs all over and let stand in the water for 1 minute. Peel and thickly slice the eggs; the yolks will be barely cooked but not runny.
Spread the bread pieces on a baking sheet and brush lightly with olive oil. Bake for about 12 minutes, until crisp.
Meanwhile, in a large pot of boiling salted water, cook the asparagus until just tender, about 3 minutes. Drain, cool and cut the asparagus in half lengthwise.
In a small bowl, combine the 1/4 cup plus 2 tablespoons of oil with the vinegar; season with salt and pepper. In a large bowl, toss the asparagus, toasted bread, greens, onion, and cheese. Drizzle with the dressing and toss. Garnish with the eggs and radish and serve.
© PAUL COSTELLO