Our Mission
To support local farmers, growers, and artisans; to make available wholesome, quality food and goods, and to provide a festive marketplace that benefits the Marquette Community.
The Downtown Marquette Farmers Market is sponsored by the Marquette Downtown Development Authority
featured recipe
Winter Squash Tasting October 20 at the
Downtown Marquette Farmers Market.
Come try the many varieties and figure out your favorite, then stock up for winter.
How to select winter squash: Choose squash that is heavy for its size. Avoid squash with cracks or soft spots
How to store: Store in a cool, dark place. Once cut, store in the refrigerator.
For additional information on storage length:
http://www.johnnyseeds.com/growers-library/vegetables/winter-squash-eating-guide.html
Easy slow-Cooker Squash:
1 winter squash
1 cup water
Cut the squash in half lengthwise. Use a large spoon to clean out the seeds. (Set seeds aside to roast later. https://www.thespruceeats.com/roasted-squash-seeds-2355361 ) Add water and the cleaned squash helves to the slow cooker. Set the slow cooker to low for 6 hours or until squash is easily pierced with a fork. Scoop cooked flesh from the skin and mash lightly. store in the refrigerator, or place in a freezer bag, label and freeze for future use.
Tip: Use this cooked squash as a substitute for any recipe that calls for canned pumpkin puree.
Curried Squash Hummus serves 14
1 small squash, cooked and mashed (about 2 cups)
1 can (15 ounces) chickpeas, drained and rinsed
1 teaspoon salt
1 teaspoon curry powder
2 Tablespoons tahini *optional
2 Tablespoons olive oil
Place all ingredients in a food processor. Blend until smooth. Serve with  sliced fresh vegetables, crackers or lightly toasted pita bread wedges.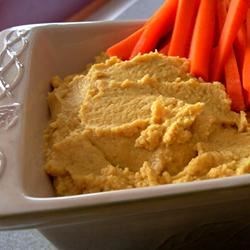 photo from Allrecipes
Nutrition Information:
97 calories
3 grams protein
14 grams carbohydrate
4 grams fat
222 milligrams sodium
3 grams fiber
recipes and information from:
FRESH* Seasonal * TASTY
Farmers Market Cookbook
recipes by: Linnea Redinger