Producers 2018 Season
2018  Season Producers 
Davin's Chocolates, Davin Makela, owner                                                                                                                                                                                                                 Chocolate bars made in Marquette directly from organic cocoa beans and other organic ingredients. Also, caramels and other candies made from scratch
Donkers,Jennifer Ray, owner
All natural candies including milk or dark chocolates and other signature items..
Lakeside Bakery, Jennifer Lindsay, owner                                                                                                                                                                                                                 Scones, cupcakes, bars, maple blondies, breads, and cookies
Marquette Baking Company, Peter Claybaker, owner
Bread sticks, breads, cookies, scones, and other baked goods
Marquette Maple Company, Micah and Helen Ohman, owners
Maple syrup, maple cream, maple sugar, maple candy, maple cotton candy, asparagus
Mother Mary's Canning Co.,  Mary Barker, owner                                                                                                                                                                                               Pickled beets, beans, and asparagus, asparagus salsa, hot asparagus bites, bread and butter pickles, beet horseradish relish, corn relish, and harvest relish. Also, applesauce, apple butter barbecue, cranberry/apple chutney, and jams and jellies.
Superior Culture, Alex Rowland, owner                                                                                                                                                                                                              Kombucha (bottled and on tap)
UP North Roast, Jacob Cass, owner
Fresh roasted coffee beans, cups of brewed coffee, cinnamon glazed almonds and pecans
Yooper Yummiest, Kathy Lepisto, owner                                                                                                                                                                                                                  Homemade baked goods with butter and unbleached flour. Large cinnamon buns, scones, oatmeal chocolate chip cookies, cardamon bread, sweet bread, and gluten free banana muffins.
2018 Daily Producers
Yooper Sisters, Amanda Sheppard, owner                                                                                                                                                                                                                 Hard candy, jam, chocolate covered Oreo's, candles and skincare.
featured recipe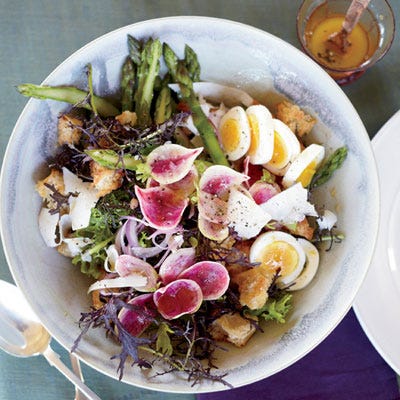 Spring is here and the Downtown Marquette Farmers Market opens on Saturday May 26. There will be lots to see, familiar vendors and new ones too. With a couple of pantry ingredients on hand, and what you can find at the market, this recipe will be easy to make and has satisfying crunch of fresh local greens, richness of local eggs. Add some cooked meat if you like and enjoy all that the market has to offer.
Ingredients
1/4 c.
extra-virgin olive oil
2 tbsp.
extra-virgin olive oil
2 c.
packed young mustard greens or chicory
1 
watermelon radish or 2 large red radishes
Directions
Preheat the oven to 350 degrees F. Put the eggs in a saucepan of water and bring to a simmer over moderately high heat. Simmer for 6 minutes. Drain the saucepan and fill it with cold water. Crack the eggs all over and let stand in the water for 1 minute. Peel and thickly slice the eggs; the yolks will be barely cooked but not runny.
Spread the bread pieces on a baking sheet and brush lightly with olive oil. Bake for about 12 minutes, until crisp.
Meanwhile, in a large pot of boiling salted water, cook the asparagus until just tender, about 3 minutes. Drain, cool and cut the asparagus in half lengthwise.
In a small bowl, combine the 1/4 cup plus 2 tablespoons of oil with the vinegar; season with salt and pepper. In a large bowl, toss the asparagus, toasted bread, greens, onion, and cheese. Drizzle with the dressing and toss. Garnish with the eggs and radish and serve.
© PAUL COSTELLO