Producers 2018 Season
Davin's Chocolates
Davin Makela, owner              Chocolate bars made in Marquette directly from organic cocoa beans and other organic ingredients. Also, caramels and other candies made from scratch.
Donckers
Jennifer Ray, owner
All natural candies including milk or dark chocolates and other signature items..
Door County Whitefish
Division of Ruleau Bros. Inc. a 150 year family tradition of commercial fishing on Lake Michigan.
Fresh whitefish fillets, smoked whitefish fillets, smoked whitefish pate.
 End Of The Road Winery
Cold climate grapes and apples used to make grape wines, fruit wines, wine jelly
 
 For Goodness Cakes
Kathleen Heinonen, owner/baker
cakes, scones, coffee cakes, bars
 
Lakeside Bakery
Jennifer Lindsay, owner
Scones, cupcakes, bars, maple blondies, breads, and cookies
 
Marquette Baking Company
Peter Claybaker, owner Bread sticks, breads, cookies, scones, and other baked goods
 
Marquette Maple Company
Micah and Helen Ohman, owners
Maple syrup, maple cream, maple sugar, maple candy, maple cotton candy, asparagus
 
Mother Mary's Canning Co.
Mary Barker, owner
Pickled beets, beans, and asparagus, asparagus salsa, hot asparagus bites, bread and butter pickles, beet horseradish relish, corn relish, and harvest relish. Also, applesauce, apple butter barbecue, cranberry/apple chutney, and jams and jellies.
 
Superior Culture
Alex Rowland, owner
Kombucha
 
UP North Roast
Jacob Cass, owner
Fresh roasted coffee beans, cups of brewed coffee, cinnamon glazed almonds and pecans
 
Yooper Yummies+
Kathy Lepisto, owner Homemade baked goods with butter and unbleached flour. Large cinnamon buns, scones, oatmeal chocolate chip cookies, cardamon bread, sweet bread, and gluten free banana muffins.
 
 The Howling Buddha
Adam Robarge, owner/baker
Artisanal dog treats made with only the finest, locally sourced (where available) ingredients. Handcrafted in small batches.
 
231 West
Matt Beardsley, baker
Contemporary patisserie serving European-style breakfast pastries.
 
 Borealis Baking Company
Anja Wiedenhoefer, owner
Baked goods, including cupcakes, cookies, bars and breads using wholesome ingredients. Borealis Baking Company offers a variety of options including gluten friendly, paleo and vegan.
 
 Treated With Love
Mandy Moseley, baker
Treated with Love is a vegan dog treat company, owned and operated by a Husband and Wife, whose mission is to provide a cruelty free and healthy alternative to commercially sold dog treats.  We believe that all animals deserve to be Treated with Love.
 
 Velodrome Coffee Company
Brice Sturmer, owner, Paul Vafa, operating Partner
An independently owned coffee shop and rostery that personally sources their coffee from around the globe and roasts it in Marquette. Velodrome Coffee Company also bike delivers all in-town coffee orders. Espresso based drinks and whole bean coffee available at the market.
 
 Xxantopia
Carol Stanley, baker
nut-free baked goods
 
Yooper Sisters
Amanda Sheppard, co-owner
Hard candy, jam, candles.
featured recipe
Winter Squash Tasting October 20 at the
Downtown Marquette Farmers Market.
Come try the many varieties and figure out your favorite, then stock up for winter.
How to select winter squash: Choose squash that is heavy for its size. Avoid squash with cracks or soft spots
How to store: Store in a cool, dark place. Once cut, store in the refrigerator.
For additional information on storage length:
http://www.johnnyseeds.com/growers-library/vegetables/winter-squash-eating-guide.html
Easy slow-Cooker Squash:
1 winter squash
1 cup water
Cut the squash in half lengthwise. Use a large spoon to clean out the seeds. (Set seeds aside to roast later. https://www.thespruceeats.com/roasted-squash-seeds-2355361 ) Add water and the cleaned squash helves to the slow cooker. Set the slow cooker to low for 6 hours or until squash is easily pierced with a fork. Scoop cooked flesh from the skin and mash lightly. store in the refrigerator, or place in a freezer bag, label and freeze for future use.
Tip: Use this cooked squash as a substitute for any recipe that calls for canned pumpkin puree.
Curried Squash Hummus serves 14
1 small squash, cooked and mashed (about 2 cups)
1 can (15 ounces) chickpeas, drained and rinsed
1 teaspoon salt
1 teaspoon curry powder
2 Tablespoons tahini *optional
2 Tablespoons olive oil
Place all ingredients in a food processor. Blend until smooth. Serve with  sliced fresh vegetables, crackers or lightly toasted pita bread wedges.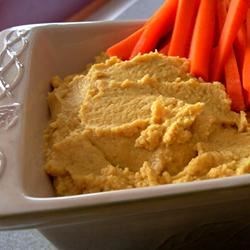 photo from Allrecipes
Nutrition Information:
97 calories
3 grams protein
14 grams carbohydrate
4 grams fat
222 milligrams sodium
3 grams fiber
recipes and information from:
FRESH* Seasonal * TASTY
Farmers Market Cookbook
recipes by: Linnea Redinger