Policies
2017 vendor App 1-6, 11-13 2017 market policies
Perennial Plant Sales
To minimize the spread of plant diseases and pests The Michigan Department of Agriculture and Rural Development inspects gardens of vendors who will be selling perennial plants. All vendors must have a license before they are able to sell at the Downtown Marquette Farmers Market. Click here for more information on licenses.
Michigan Cottage Foods Information:
Many people express interest every year in selling food items at the Downtown Marquette Farmers Market. While we would love to have lots of food available at market, and welcome their entrepreneurial spirit, we must also be sure that market products comply with state law. Most food to be sold at market must be produced in a licensed kitchen and served by someone who has completed Serve Safe training. There are some products, however, that are allowed to be sold at market even if they were made at home.
Michigan's Cottage Food Law, PA 113 of 2010, which took effect in July 2010, exempts a "cottage food operation" from the licensing and inspection provisions of the Michigan Food Law of 2000. A cottage food operation still has to comply with the labeling, adulteration, and other provisions found in the Michigan Food Law, as well as other applicable state or federal laws, or local ordinances.
Under the Cottage Food Law, non-potentially hazardous foods that do not require time and/or temperature control for safety can be produced in a home kitchen (the kitchen of the person's primary domestic residence) for direct sale to customers at farmers markets, farm markets, roadside stands or other direct markets. The products can't be sold to retail stores; restaurants; over the Internet; by mail order; or to wholesalers, brokers or other food distributors who resell foods.
Operating a business under the Cottage Food Law is not for everyone; some food products do not fit under the exemptions and some businesses aim to make more each year than the $15,000 cap outlined in the Cottage Food Law. However, the Cottage Food Law is a great opportunity for many who have been thinking about starting a food business, but have been reluctant to spend the money needed to establish or rent commercial kitchen space.
Selling directly to consumers under the Cottage Food Law provides an opportunity for new, small scale food processors to "test the waters" and see if operating a food business is the right fit for them. The law also enables farmers who sell produce at farmers' markets and farm markets to expand their product lines to include things like baked goods and jams. Hopefully, this will be a stepping stone into a full-scale, licensed food processing business for many cottage food businesses in the future.
The information above, and much more, can be found here.
Michigan Farmers Market Association
The Michigan Farmers Market Association works with and for farmers market organizers, managers, farmers, vendors and friends to create a thriving marketplace for local food and farm products. More information here.
MSU Product Center
The MSU Product Center for Agriculture and Natural Resources (ANR) was established in Spring, 2003 with funds from the Michigan Agricultural Experiment Station and Michigan State University Extension to improve economic opportunities in the Michigan agriculture, food and natural resource sectors. The Product Center can help you develop and commercialize high value, consumer-responsive products and businesses in the agriculture and natural resource sectors. More information here.
Michigan Department of Agriculture & Rural Development
Interested in selling at a farmers market or starting a farm? Check out regulations and resources here.
featured recipe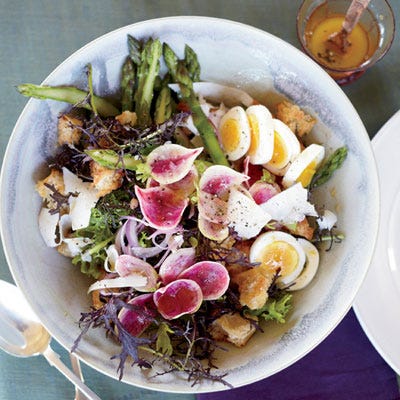 Spring is here and the Downtown Marquette Farmers Market opens on Saturday May 26. There will be lots to see, familiar vendors and new ones too. With a couple of pantry ingredients on hand, and what you can find at the market, this recipe will be easy to make and has satisfying crunch of fresh local greens, richness of local eggs. Add some cooked meat if you like and enjoy all that the market has to offer.
Ingredients
1/4 c.
extra-virgin olive oil
2 tbsp.
extra-virgin olive oil
2 c.
packed young mustard greens or chicory
1 
watermelon radish or 2 large red radishes
Directions
Preheat the oven to 350 degrees F. Put the eggs in a saucepan of water and bring to a simmer over moderately high heat. Simmer for 6 minutes. Drain the saucepan and fill it with cold water. Crack the eggs all over and let stand in the water for 1 minute. Peel and thickly slice the eggs; the yolks will be barely cooked but not runny.
Spread the bread pieces on a baking sheet and brush lightly with olive oil. Bake for about 12 minutes, until crisp.
Meanwhile, in a large pot of boiling salted water, cook the asparagus until just tender, about 3 minutes. Drain, cool and cut the asparagus in half lengthwise.
In a small bowl, combine the 1/4 cup plus 2 tablespoons of oil with the vinegar; season with salt and pepper. In a large bowl, toss the asparagus, toasted bread, greens, onion, and cheese. Drizzle with the dressing and toss. Garnish with the eggs and radish and serve.
© PAUL COSTELLO