Winter Squash
 The Late Fall season of the Downtown Marquette Farmers Market begins this Saturday, November 3. The market is inside the Marquette Commons building, a few vendors will be outside. Come purchase fresh produce directly from the grower, what a privilege to meet who planned and grew your food.
How to select winter squash: Choose squash that is heavy for its size. Avoid squash with cracks or soft spots
How to store: Store in a cool, dark place. Once cut, store in the refrigerator.
For additional information on storage length:
http://www.johnnyseeds.com/growers-library/vegetables/winter-squash-eating-guide.html
Easy slow-Cooker Squash:
1 winter squash
1 cup water
Cut the squash in half lengthwise. Use a large spoon to clean out the seeds. (Set seeds aside to roast later. https://www.thespruceeats.com/roasted-squash-seeds-2355361 ) Add water and the cleaned squash helves to the slow cooker. Set the slow cooker to low for 6 hours or until squash is easily pierced with a fork. Scoop cooked flesh from the skin and mash lightly. store in the refrigerator, or place in a freezer bag, label and freeze for future use.
Tip: Use this cooked squash as a substitute for any recipe that calls for canned pumpkin puree.
Curried Squash Hummus serves 14
1 small squash, cooked and mashed (about 2 cups)
1 can (15 ounces) chickpeas, drained and rinsed
1 teaspoon salt
1 teaspoon curry powder
2 Tablespoons tahini *optional
2 Tablespoons olive oil
Place all ingredients in a food processor. Blend until smooth. Serve with  sliced fresh vegetables, crackers or lightly toasted pita bread wedges.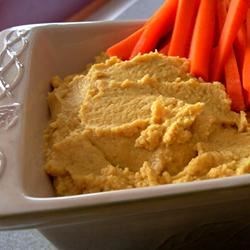 photo from Allrecipes
Nutrition Information:
97 calories
3 grams protein
14 grams carbohydrate
4 grams fat
222 milligrams sodium
3 grams fiber
recipes and information from:
FRESH* Seasonal * TASTY
Farmers Market Cookbook
recipes by: Linnea Redinger